Anil Rustgi, MD
Chief, Division of Gastroenterology
T. Grier Miller Professor of Medicine and Genetics
University of Pennsylvania, School of Medicine
Philadelphia, Pennsylvania

Dr. Anil Rustgi received his medical degree from Duke University Medical School and completed his medical internship and residency at Beth Israel Hospital of Harvard University, and also served as chief medical resident. He then completed his gastroenterology fellowship at Massachusetts General Hospital (MGH) of Harvard Medical School. Dr. Rustgi has been Chief of Gastroenterology at the University of Pennsylvania since 1998. He is a recognized expert in GI cancers and uses model systems to improve the diagnosis and therapy of these cancers. As T. Grier Miller Professor of Medicine and Genetics, he is also Director of the Tumor Biology Program within the Penn Cancer Center, Director of the NIH/NIDDK Penn Digestive Diseases Research Center, directs 2 NIH T32 training grants, and has been recognized by the American Cancer Society as an ACS Professor. He is past president of the AGA and former editor-in-chief of Gastroenterology and was recently awarded the Julius Friedenwald Medal, the highest honor bestowed upon an AGA member.
Last modified: August 16, 2017
Authored Items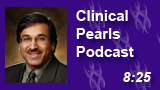 Is there a connection between pancreatic cancer and new-onset diabetes?